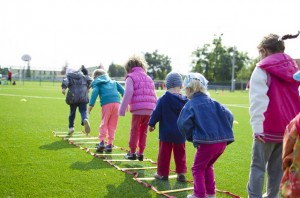 After being cooped up all winter, your kids will be itching to get outside and have some fun. Fortunately, there are plenty of spring activities that the entire family can take part in, right in your own backyard. To encourage your child to stay active and soak up that all-natural vitamin D, try some of these family-friendly activities.
Make a Few Bird Feeders
Bird feeders come in many shapes and sizes. Younger children can coat pinecones in peanut butter and birdseed, and then hang them from low-lying branches. For older kids, parents can assist with constructing a feeder out of an old milk jug. Teens can even work on their carpentry skills and create one out of wood.
Obstacle Course
You're never too old for an obstacle course! The best part is- an obstacle course can be tailored to work for children of all ages. For example, you can set ropes at different lengths. Little ones can crawl under them, while older children can jump over them. Add cones to run around and tires to play hopscotch in. Your kids will be active and engaged, all while having fun.
Plant a Garden
Section off an area of your lawn to be used for a garden. Next, gather the entire family and decide what you'd like to plant. Perhaps you'd like a few vegetables to teach your children about sustainable living, or maybe you want to plant colorful flowers to add some brightness to your home. No matter what you decide to plant, you'll be working together as a family.
Have a Scavenger Hunt
Create a family scavenger hunt in your backyard. Older children can participate on their own, while younger ones can buddy up with mom and dad. A few examples of items that can go on your list include garden gnomes, three different types of leaves, balls, pictures of butterflies or birds, purple flowers, smooth rocks, and different animal tracks.
The private schools in Orlando believe it is important for parents to spend time outdoors with their children. For additional advice check out our blog or contact Lake Forrest Prep for more info.