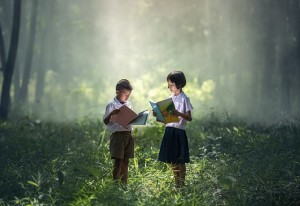 Not only does reading improve comprehension, it also introduces children to new vocabulary words. Our staff at Lake Forrest Prep suggests you take a look at the following books and add them to your must-read list for the new year.
1. Little Blue Truck's Springtime
Designed for early readers, Little Blue Truck's Springtime has flaps throughout that hold baby animals underneath. Kids will learn to identify new animals and there's plenty of opportunities to practice counting as well.
2. Treasure Hunters: Quest for the City of Gold
Written by the #1 New York Times bestselling author James Patterson, Treasure Hunters: Quest for the City of Gold takes kids on a wild adventure through the Amazon. The book is designed for students in grades three through seven and is perfect for stimulating one's imagination and satisfying a child's thrill for excitement.
3. Dragon Masters: Chill of the Ice Dragon
Dragon Masters: Chill of the Ice Dragon is one of Scholastic's chapter books for students in first through third grade. The text is easy to read and contains plenty of action to keep kids engaged. Children follow the main character, Mina, as she searches for a fire dragon to unfreeze her kingdom.
4. Time Jumpers (Five Kingdoms)
The final book in the Five Kingdoms series, Time Jumpers is a great choice for elementary students who have a love for sci-fi stories. If your child hasn't read the first four books in this series, you may want to borrow them from the library before you jump into this one, which continues to follow the main character, Cole, and his faithful friends.
Discover additional tips and tricks at Lake Forrest Prep, an Orange County private school that aspires to create an atmosphere where the school is an extension of the family: a school environment where teacher, parent, and student interactions involve solid connections, enriching lessons, and responsibility on the part of all three participants. We encourage parents to visit our campus blog for helpful tips or contact us for a tour of our campus!