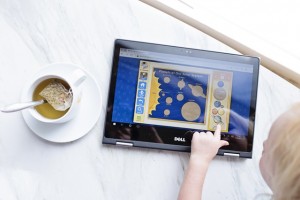 These days, children are drawn to electronic devices so why not use them as an educational tool? There are plenty of options that are both entertaining and educational. We've compiled a list of the top five apps that you can download to any phone or tablet.
1. PBS Kids Daniel Tiger's Storybooks
The Daniel Tiger's Storybooks app contains interactive stories that teach important life lessons. Once a story ends, kids get a chance to play a game that reinforces what they learned from the story. The stories come in English or Spanish.
2. The Magic School Bus Oceans
Encourage your child's love of science with the award-winning The Magic School Bus Oceans app. It's presented in a kid-friendly comic book format, and kids can play games that help them explore ocean life, as well as view 26 real photos and 11 videos of underwater animal and plant life.
3. LOOPIMAL by YATATOY
Little ones that love music will appreciate the LOOPIMAL app. They can create their own song by moving around blocks of different notes. The blocks are actually animal characters that dance to the music, which makes the app even more appealing to younger users.
4. Motion Math: Hungry Guppy
Preschoolers and kindergarten students will find the Motion Math: Hungry Guppy app helps them master their numbers. Once the child can count, the app goes on to teach them how to add. The colorful, number-eating fish and the fun music throughout the activities really keeps their attention.
5. Stack the States
For history buffs, there's the Stack the States app. Elementary students are taught to recognize all 50 states, their abbreviations, and their capitals. Each state is designed to look like a cartoon and kids have the option of putting the states on the map like a puzzle or completing a few matching activities.
Discover additional tips and tricks at Lake Forrest Prep, a private elementary school that aspires to create an atmosphere where the school is an extension of the family: a school environment where teacher, parent, and student interactions involve solid connections, enriching lessons, and responsibility on the part of all three participants. We encourage parents to visit our campus blog for helpful tips or contact us for a tour of our campus!