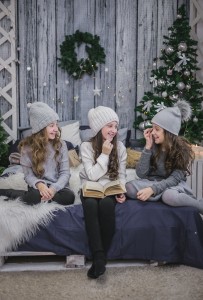 Although Christmas is the season for gift-giving, celebrating the holiday with your children doesn't have to break the bank. The staff at Lake Forrest Prep knows how excited kids get when December 25th is right around the corner, so we've compiled a list of easy and affordable ways to enjoy Christmas with the ones you love.  
The 12 Days of Christmas
Get into  the holiday spirit by setting aside some time at the end of each of the 12 days before Christmas. You can either read your kids' favorite Christmas story, watch a holiday movie on television, or create your own Christmas play to act out in front of the rest of the family.
Create Homemade Decorations
There's no need to purchase decorations when you can make a few with your kids. Make construction paper garland to drape around windows and door frames, little clay gingerbread ornaments for your tree, or pinecone reindeer for the fireplace mantel!
Hot Cocoa and Caroling Night
Have a hot cocoa and caroling night. Start off by making everyone a cup of cocoa with a special treat, like a candy cane, dash of cinnamon, or a splash of vanilla. Then, ask each family member to write two of their favorite Christmas songs on a sheet of paper and toss it in an upside down Santa hat. These will be the songs to sing during your family caroling night!
Adopt Someone for Christmas
You may know a widower at your church, or perhaps you live near a Coast Guard base and could host a new trainee that is not permitted to return home. There are also nursing homes with elderly individuals who don't have family nearby. Giving someone a warm meal and a stocking with a few goodies in it can help teach your children the true meaning of Christmas.
Discover additional tips and tricks at Lake Forrest Prep, a private school in Orlando that aspires to create an atmosphere where school is an extension of the family: a school environment where teacher, parent, and student interactions involve solid connections, enriching lessons, and responsibility on the part of all three participants. We encourage parents to visit our campus blog for helpful tips or contact us for a tour of our campus!