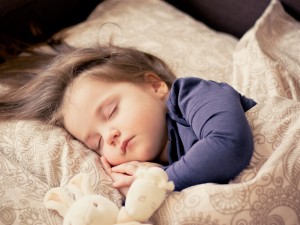 The National Sleep Foundation stresses how important sleep is for children, as it affects the child's mental and physical development. We know how difficult it can be to get your little one to bed on a school night. We have compiled a list of five ways you can help promote a healthy bedtime routine in your household so that your kids wake up refreshed and ready to learn.  
Start Scaling Back Bedtimes


As the end of summer nears, you'll want to start getting your children in bed much earlier. Instead of drastically reducing their bedtime from 9:00 pm to 8:00 pm, gradually scale back the time over a few weeks before. For example, you could have your kids in bed at 8:45 pm week one, 8:30 pm week two, and 8:15 pm week three. The children will then be ready for their 8:00 pm back-to-school bedtime.

Schedule Time to Unwind


It is difficult for most children to fall asleep after being active all day. One way to prevent this is by scheduling a small block of time (20 to 30 minutes) to unwind. You can read your child a book, play a board game, or put together an age appropriate puzzle.  

Create a Calm Sleeping Environment


Parents can transform their child's bedroom at night so that it promotes rest and relaxation – making it easier to fall asleep after a long day. Installing a dim night light, turning on a soothing sound machine, and placing a few of their favorite stuffed animals on the bed are all excellent ways to create a calm sleeping environment.

Give Kids a Choice


While there are times when you need to tell your child what to do, there are also times when you can empower them by them a choice. Bedtime provides the perfect opportunity for this. Start off allowing them to select the pajamas they want to wear and then move over to the bookshelf, where they can pick out an evening story. You may also want to give them a choice between water or milk before bed, which comfort object they'd like to hold, and how many hugs and kisses they want.

5. Turn Bedtime into Something Special


Find ways to turn bedtime into something special between you and your child. This gives little ones a reason to look forward to going to bed. You could reserve this time for cuddling and telling stories or sharing a light snack while chatting about the day. You can even get creative and make your snack resemble an animal or insect.

The key to a healthy bedtime routine is consistency. After following the schedule for a few days, your child's body will begin to adapt and they'll be ready for school the following morning.
Lake Forrest Prep, a private school in Orlando, aspires to create an atmosphere where school is an extension of the family: a school environment where teacher, parent, and student interactions involve solid connections, enriching lessons, and responsibility on the part of all three participants. We encourage parents to visit our Orlando private school blog for helpful tips or contact us for a tour of our campus!