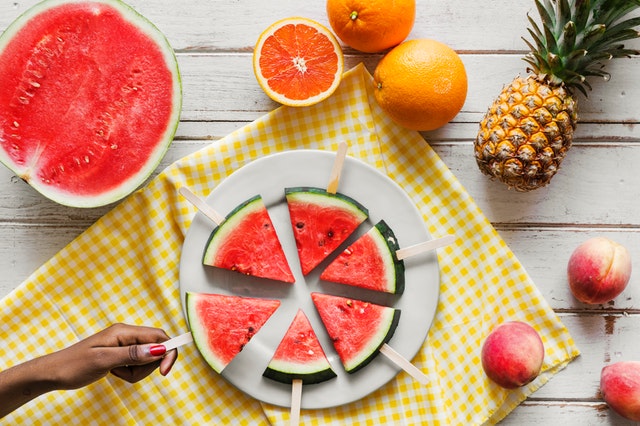 Juicy watermelon, frozen bananas, and tangy pineapple all make great summer treats. Lake Forrest Prep, one of the best schools in Orlando, has some ideas to help you incorporate these healthy treats at home.

Pineapple Bees
Celebrate summer with a sweet treat! These pineapple bees are a great way to sneak some fruit in.

Ingredients:
Pineapple slices
Candy melts
Squeeze bottle or piping bag
Candy eyes
Potato chips
Directions:
Lay your pineapple slices out on a baking sheet.
Melt the candy melts.
Pipe candy melts onto the top third of each pineapple slice. This will be your bee's head!
Pipe stripes onto the pineapple slices.
Place two candy eyes on the bees head.
Stick one potato chip on each side of the bee to make its wings.
Watermelon Popsicles
Nothing is more refreshing than a popsicle on a hot summer day! Here's how you can use fruit to cut down the amount of sugar you'll find in storebought ones.

Ingredients:
1 ½ cups of watermelon, seeded and diced
½ cup of water
1 tablespoon honey
1 tablespoon fresh lemon juice
1 tablespoon white sugar
Ice pop molds
Directions:
Blend the watermelon, water, honey, lemon juice, and white sugar together until it's smooth.
Pour the mixture into the ice pop molds.
Freeze until solid. This will take about two hours.
Carrot Crackers
After a long day in the sun, nothing beats a sandwich and chips. But storebought chips can be high in calories, salt, and preservatives. Make your own healthy version at home with just four ingredients!

Ingredients:
1 ½ cup grated carrot
½ cup water
½ cup of shredded cheddar cheese
2 large eggs
1 cup of whole wheat flour
Directions:
Preheat your oven to 350°F.
Mix grated carrots and water in a microwave bowl.
Cover and microwave on high for three minutes.
Drain carrots. Use a clean towel to squeeze out any extra liquid!
Place the carrots, eggs, and cheese into a food processor. Pulse until well blended.
Slowly add the flour to your carrot mixture, pulsing the mixture in between.
Lightly flour your workspace. Roll out your carrot dough until it is roughly ¼ of an inch thick.
Using a pizza cutter, cut dough into one-inch squares.
Place squares onto a baking sheet.
Sprinkle with salt.
Bake for 15-20 minutes or until they are slightly brown.
Summer is the perfect time to start incorporating more fruits and vegetables into your family's diet! Lake Forrest Prep, one of the best schools in Orlando, wants to help your family stay healthy. For more tips on packing allergy-friendly lunches and how to stay healthy, check out our blog.