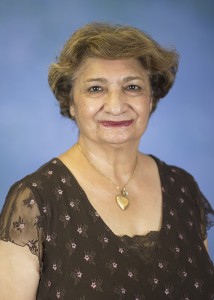 After 23 wonderful years at the Orlando private school, the head cook at Lake Forrest Prep, Nayere Hamtiyar, will be retiring. Before she came to the school in April of 1994, she owned a small restaurant. Her passion for cooking and warmth toward children aided in her decision to fill the growing bodies of the charming students at Lake Forrest Prep.
The happiest moments from her time here were the moments she was able to spend with her students. From seven o'clock in the morning to one o'clock in the afternoon, she helped students the moment they arrived to the school in their cars and into the classroom. She loved seeing the students and treated them as she would with her own. Mrs. Nayere enjoyed seeing their smiling faces daily just as much as they loved her food. Her scrumptious meals helped keep the student body's energy going throughout the school day. Not only did she prepare nutritious lunches for the students, but also prepared delicious snacks for the preschoolers to munch on throughout the day.
She was always happy to hear when the students would tell her that they absolutely loved eating the lunch she whipped up in the kitchen with the rest of the friendly kitchen staff. So much so, that the students would go to their respective homes and ask for their parents to recreate it. The children would tell their parents, "That's not how Mrs. Nayere makes it!" When she hears these stories, it would always brings a smile to her face.
Looking at the future, Mrs. Nayere is most excited to see more and more students enrolling and experiencing the amazing things Lake Forrest Prep has to offer. She believes this Orlando private school's biggest strength is family. Everyone from the friendly staff to the loving families, they all take care of each other. Family is a very important value to her, so during her retirement she will be relaxing with her loving husband and will spend the majority of her time visiting family.
Despite the bittersweet departure, her huge heart will never leave the school as she plans to visit often. Mrs. Nayere will always love her school, her home, and will miss it terribly. At Lake Forrest Prep, we will miss her equally.